What is this madness?
It's a punchline.  As in "Wouldn't it be hee-larious if there was a comic about Ada Lovelace and Charles Babbage fighting crime? Thanks, I'll be here all week!"  The imaginary comic was the punchline to Lovelace: The Origin, drawn because my good buddy Suw Charman got me drunk started a Noble Enterprise called Ada Lovelace Day.  
At first I didn't have the smallest idea of it ACTUALLY being a comic, but you simply can't read anything about Charles Babbage or Ada Lovelace without being struck by what an awesome comic they would make.  Or maybe that's just me.  Various episodes started drawing themselves in my head, which led them to being drawn in actuality, usually when I was supposed to be drawing something else.  This sort of thing didn't really belong on my official blog, which is supposed to present me as a person of deep seriousness single-mindedly devoted to excellence in visual effects (which I am!!).  So I started this website.. comic.. thing.
So, this is either the agonizing birth pangs, or monstrous death-throes, of a comic.  I'm definitely making it up as I go along.
Why are you doing this?
No particular reason.  I like history, science, comics, primary documents, and pointless non-remunerative projects.  I once typed out the the entire journals of Gilbert White for no particular reason, for instance.
What's up with Babbage's hair?
Like most of this comic, it's a conflation of misleading half-truths: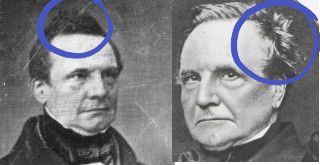 Why does Lovelace smoke a pipe?
Back when this was a punchline, not a comic, I doodled out the Avengers-type-thing pose with the rayguns (now a tshirt!).  Originally I had Lovelace with the gun cocked upwards, but that made the composition weird; I liked the pose with the raygun down but that left an awkward blank space next to her head.  So I drew in a pipe, because I don't know about you, but when I hear 'manic-depressive calculating machine' I think Sherlock Holmes.
There are no photographs of Ada (there's one you see floating around sometimes, but that's actually her daughter, Anne… you know, the one who moved to Egypt, spoke five languages,  painted gorgeous watercolours, was the first western women to cross the northern desert, and developed the modern Arabian horse… AHAHA guys, stop being so cool, people will think I'm making this up!), so I draw her as a version of Byron (which she totally was).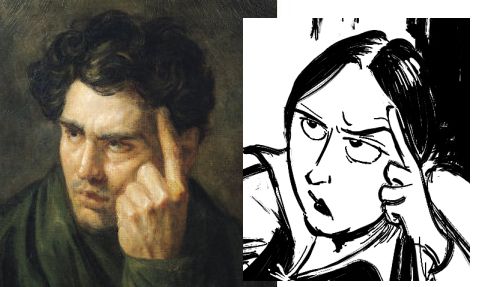 What are you drawing with?
I use a 12x Cintiq and Corel Painter.  Private note to Painter:  you know, Painter, Babbage's hand-cranked clockwork computer could adjust leading on type.  Just sayin'.
Are you going to do a book?
I understand authors either become wealthy and celebrated, or starve in boxes. I am still trying to determine into which category I would fall.